Introduction
Thanks for checking out this KJV Bible. I've been reading the Bible on either bible.com or biblegateway.com. I'd take notes from various sermons on this app and then copy-paste Bible verses. I realized having one space where I can take down notes as well as be able to read the Bible and reference it, would be super useful in my research and hence I created this.
The New Testament connects to the Old Testament in so many ways and I wanted to explore those links between the two. After watching Mike Wingers playlist; "Jesus in the Old Testament", I was in awe of the mysteries and all the depths of the Bible and I didn't just want to read it but explore its many layers.
About this KJV Bible
A lot of websites have individual verses for KJV Bible and personally I found it hard to grasp because it wasn't written down in contextual paragraphs with headings. I've copied over individual verses from KJV Bible and divided them into paragraphs according to the (New King James Version). This will help in reading the KJV Bible more in context than individual verses.
Download Link
The file is uploaded on Google Drive and the download link is below. Import the folder "Obsidian KJV Bible" into your vault and click on the prompt "Trust author and enable plugins". The plugins used are Advanced Tables, Outliner and Style Settings. I'd recommend starting out with the "Start Page" in the vault and hopefully that should get you going.
Link: Download Obsidian KJV Bible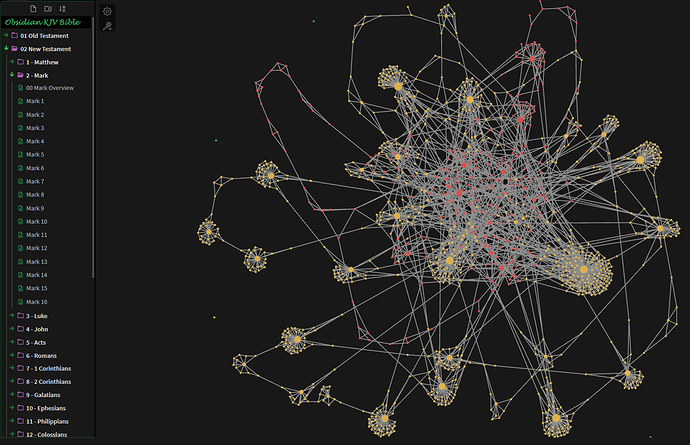 Lastly
I'd love to hear from you if this Bible has helped you at all in your journey. Please do let me know if you have any feedbacks on here or on [email protected]