What I'm trying to do
I am very new to obsidian and started using it with GitHub - EliWimmer/Obsmd-Life-Manager themes and setup + my own adjustments.
I am trying to record meetings I have this by using the [meet::] tag and then, have the note of the meeting on a tabulation. This allows the Linked Mentions of the things I reference to show the full meeting instead of just the paragraph where the mention is.

So far, so good.
The problems start when I want to have a task in the [meet::] + tabulation. As shown, it doesn't render as it should in the tabulated space.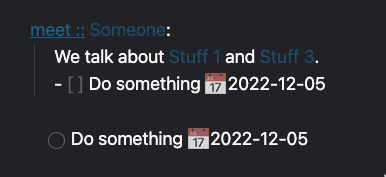 This task can't be interacted with.