I'm wondering if there will be support added for using vaults inside of WSL?
Currently when I open a vault inside WSL, it errors out and never loads. The main driving factor for wanting the vault inside WSL for me is so that I can keep it under version control and I prefer to keep my developer tools (like git) in a Linux environment, as opposed to using something like git-scm
Steps to reproduce
Open obsidian on Windows
Create a new vault, place it in a WSL path (e.g. '\\wsl$\Ubuntu\home\user\test'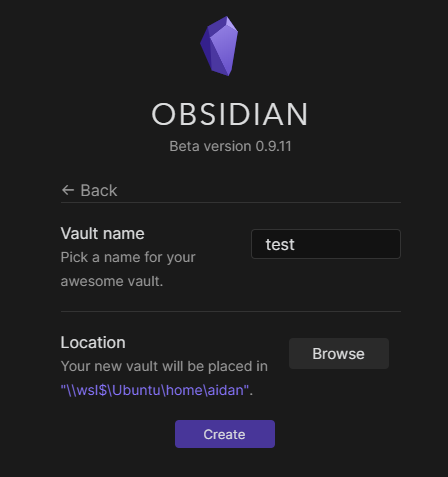 Expected result
Obsidian operates as normal
Actual result
Obsidian errors and never loads:

Error text for convenience:
Uncaught (in promise) Error: EISDIR: illegal operation on a directory, watch '\\wsl$\Ubuntu\home\aidan\test\'
    at FSWatcher.start (internal/fs/watchers.js:165)
    at Object.watch (original-fs.js:1329)
    at e.startWatchPath (app.js:1)
    at e.<anonymous> (app.js:1)
    at app.js:1
    at Object.next (app.js:1)
    at app.js:1
    at new Promise (<anonymous>)
    at s (app.js:1)
    at e.watch (app.js:1)

According to stackoverflow, EISDIR means it's trying to do a file operation on the test directory.
According to a similar issue, it could be related to cmd.exe not handling UNC paths.
Interestingly, it does create some of the files, so some of the filesystem operations appear to work:
~ find test
test
test/.obsidian
test/.obsidian/config

Environment
Operating system: Windows
---
Additional information
Additionally, if WSL support is planned, I'd like to see support for using the WSL environment/path variable similar to how VS Code works, so that way plugins like obsidian-git will work with the git from WSL as opposed to having to install git for windows.
If WSL support is too hard for now I completely understand.