This started recently.
When I open Obsidian, it shows me the "Obsidian is indexing your vault. This should only happen once" message.
I let it run for hours, but it still doesn't go away. It still says 0/11.
Screenshot: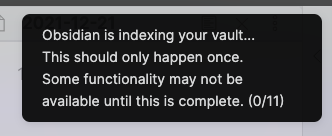 This did not use to happen before. Before, Obsidian worked normally. I'd start it, and it wouldn't need to reindex the whole vault or anything.
I don't know what to do.
I'm blocked from doing things like renaming files. If I try changing a file name in the title bar of a pane, it doesn't actually stick, nor does it change references elsewhere.
Things I have tried
Safe Mode (no community plug-ins)
Remove theme + Disable all CSS snippets
Restart
Let it run for hours
Check the developer console (no errors)
What now
Are there any Obsidian logs anywhere I can check? To see what's going on with the indexing.
Can I delete some metadata files in .obsidian (hopefully, without ruining my entire setup) to fix any corruption in those files Obsidian might be struggling with?
My Obsidian version is v0.12.19, the latest stable release.