Steps to reproduce
Enable Strict Line breaks in the settings
Write a simple callout with a title and some content.
Enter Reading Mode
Can be reproduced in the Help Vault.
Expected result
A Callout rendered properly like shown in the docs.
Actual result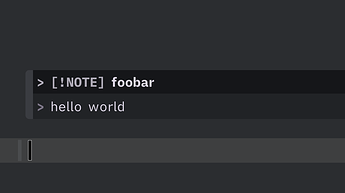 Environment
macOS 12.2.1
Obsidian 0.14.2

SYSTEM INFO:
	Obsidian version: v0.14.2
	Installer version: v0.14.2
	Operating system: Darwin Kernel Version 21.3.0: Wed Jan  5 21:37:58 PST 2022; root:xnu-8019.80.24~20/RELEASE_ARM64_T8101 21.3.0
	Login status: not logged in
	Insider build toggle: off
	Live preview: off
	Legacy editor: off
	Base theme: dark
	Community theme: Shimmering Focus
	Snippets enabled: 3
	Safe mode: off
	Plugins installed: 51
	Plugins enabled: 51
...

(leaving the plugin list out for brevity, since it can be reproduced in the help vault)
---
Additional information
In my view, strict line breaks should only affect the flow of paragraphs, not change how callouts render.