Steps to reproduce
Create a new note starting with a callout and some blocks of text
Search (⇧⌘F) for note and hover mouse over note title in search results list and activate hover preview.
Expected result
A hover preview w/ a fully rendered callout.
Actual result
Rendering issues with the callout block. (see attached GIF)
Environment
SYSTEM INFO:
Obsidian version: v1.1.12
Installer version: v1.1.9
Operating system: Darwin Kernel Version 21.6.0: Sat Jun 18 17:07:25 PDT 2022; root:xnu-8020.140.41~1/RELEASE_X86_64 21.6.0
Login status: logged in
Catalyst license: insider
Insider build toggle: on
Live preview: off
Legacy editor: off
Base theme: light
Community theme: none
Snippets enabled: 1
Restricted mode: on
---
Additional information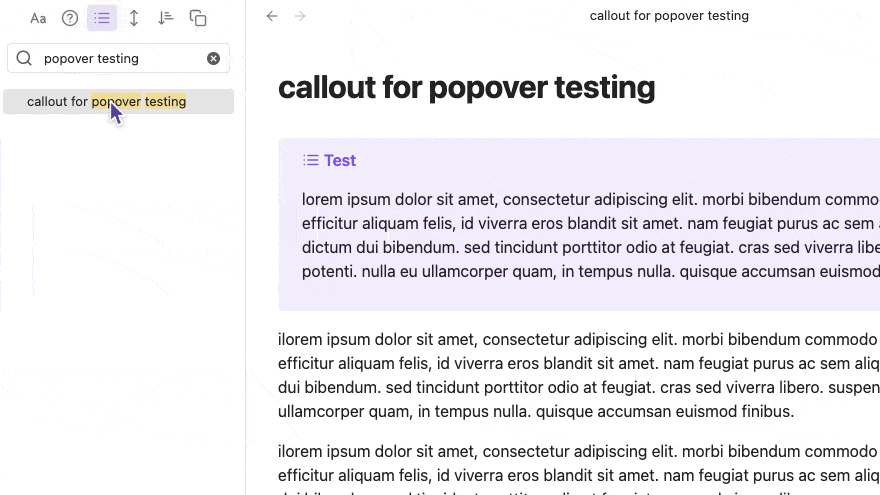 The DEBUG info says I have 1 snippet enabled. However, before testing, I disabled all snippets and did a reload of the vault.
This was also tested in a sandbox vault w/ the same results.
I tested also with other notes w/ more than one callout and most had rendering issues.
My first inclination is the suggestion-container mod-search-suggestion element is somehow interfering, maybe z-index.
Thank You