I'd like to propose a very powerful feature for this great tool. In fact, I think this is the main feature that is missing from both Roam and Obsidian, and if someone implements this, they will be absolutely top1 of all other note taking apps.
Most times when you take notes in a lecture, the lecture note taking is in fact linear. It would be a huge amount of work to dissect all small pieces of notes into their own page - and sometimes it's not even possible to find the ONE correct page where to put it, as the piece of information many times ties together two or more concepts. Thus writing content into it's own separate page is many times meaningless when taking notes, because taking lecture notes is not like writing wikipedia.
When you write e.g. Lecture1, even if adding links to all concepts, the graph view will look meaningless, the page Lecture1 will point to all other concepts, and no relationship is shown between concepts as the information is in the lecture note, instead of the individual pages. See 1st uploaded picture.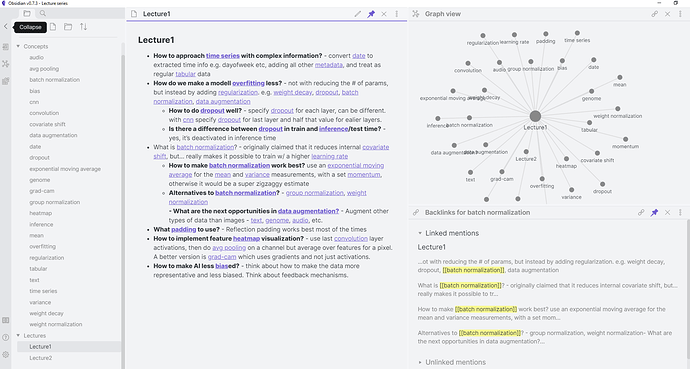 But half of the solution is already done in both Obsidian and Roam, just need to finish it. if you open the backlinks tab for any concept, you can see where the concept is referenced, by individual paragraphs… why not use that information further?!
By scanning through all paragraphs and checking the co-occurrence of concept links it's possible to link together concepts by the information in the paragraph. See my hand-made hack for this in the 2nduploaded picture.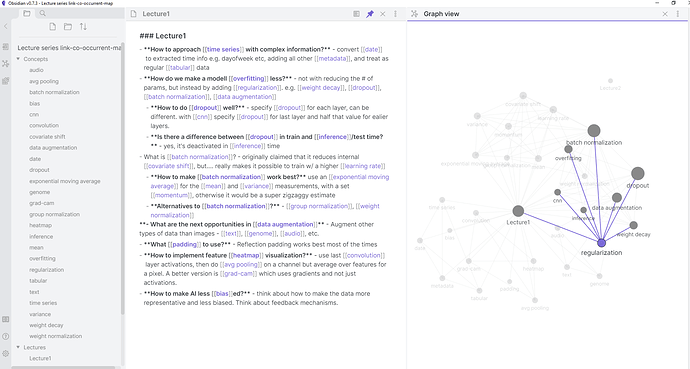 Optionally if I hide the lecture note, then I get only the knowledge graph of the concepts. See the 3rd uploaded picture.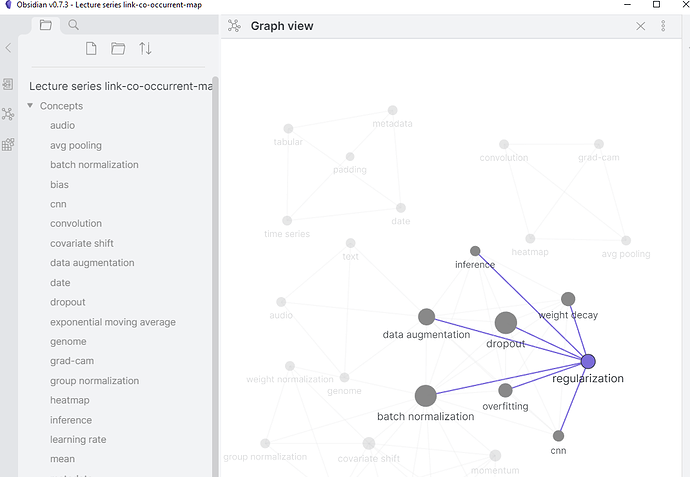 Of course, I understand, get the last version, the software wants me to write notes per-page… but it is not always possible… may paragraphs reference multiple concepts and many times there is not ONE single but maybe TWO or THREE parents of an information in a paragraph… thus I would need to copy-paste the paragraph into two or three pages… not good… but we should not need to… it's enough if we write the lecture1, lecture2 notes, then with the correct added concept links, this information is very easy to extract from the text of the lecture note itself.
If this would be implemented, I believe it would make the software the Best note taking app.