I've found myself wanting to merge multiple source notes into a single destination note for various reasons.
I took a detour to document my current approach to this. Currently published on my Publish site at: Quickly merge multiple notes in Obsidian
Motivation
My use case is to cut noise of scattered Daily notes and consolidate them into a single Dailies note per month.
I like having the Daily note in the moment for my working notes and use it to branch off into more atomic notes. I've found that reviewing Daily notes doesn't hold up for my workflow and I'd rather have a big concatenated "Daily Notes for October" to scan through and review.
Merging them makes them much more digestible and scannable to review the month and distill highlights into Weekly / Monthly as needed and clears up visual clutter.
Is this possible through plugins?
2021-11-30 It doesn't seem this is currently possible. I found some dead forum threads where this was raised Easily merge multiple notes
2021-12-01 I see here Merge notes and update backlinks - #36 by WhiteNoise they claim this functionality will come in 0.12.6

It is unclear whether they are talking about "easily merge multiple notes" or "support automatic merge when note naming conflicts arise". I suspect the incoming feature is for note naming conflicts.
Merge Daily notes into Dailies
The somewhat manual process that is pretty quick to accomplish this I found:
Use search to filter down to daily files for a month such as path:daily file:2021-10-. Sort results by filename.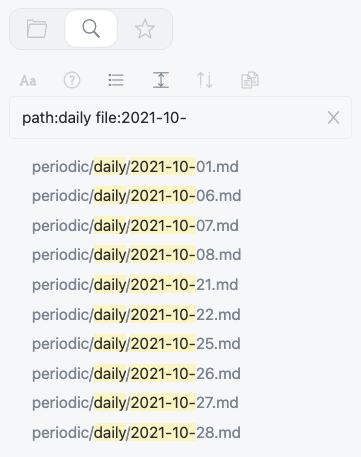 Copy the results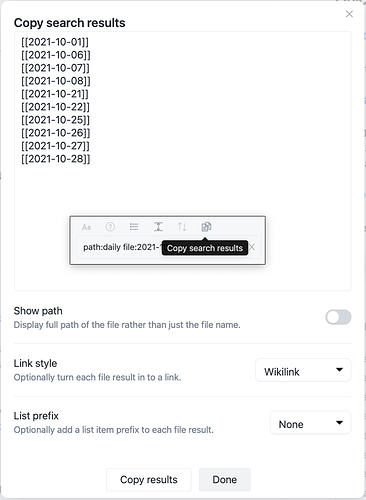 Paste the list into destination file
Optional: Paste the list into YAML aliases
Pin the destination file so it stays open
For each item in the list

Open the source note
Command Palette "Merge"
Select destination file as "merge into…"

Resulting in final destination file