Sorry for making the title confusing… I have to explain it by code and an example…
Some sort of bug, but not exactly. May cause a crash while running the code.
Steps to reproduce
Try to create a new note called "quote_bug", then copy and paste the following content:
## block quote

### try quote something below
- use
    ![[quote_bug#For test]]

#### For test
- for test

#### Something else, not for test
- not for test

The idea is to quote the "#### For test" and "- for test" parts.
Ctrl+click to turn on the preview side by side.
Everything looks normal so far.
Now edit the "#### For test" part (e.g., add some random characters, such as "#### testFor test")
Then use the mouse to click on the pane being edited (basically any content).
What you will see in the preview pane shows a recursively blockquoted block.
Expected result
It makes sense because the title/header that being linked was edited. No corresponding "link/content" for it to stick to. So it starts to quote itself over and over. While editing a long note, this can be a disaster, which leads to a software crash.
Actual result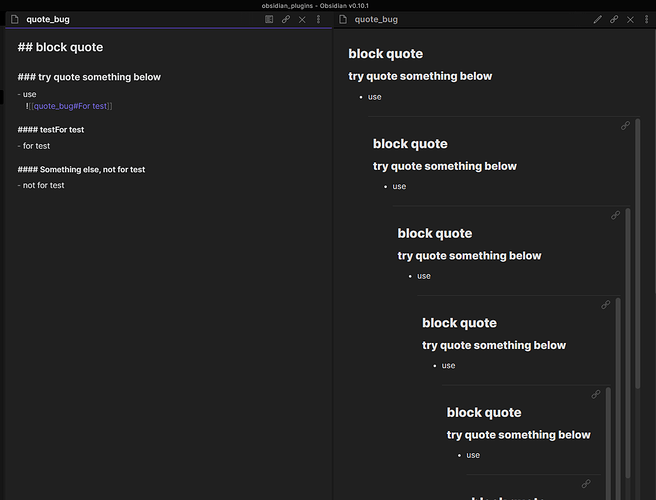 Environment
Operating system: Windows 10
---
Additional information
Sometimes you want to quote a block in the same note. And sometimes you will edit the header. Maybe set up some limitation of "the number of times that can quote" or check/update the link right before reloading the content.