Steps to reproduce
create new vault
create canvas
add 100 single line text cards
pan the canvas
Expected result
No significant freezes
Actual result
Every time some elements are appear/dissapear from the viewport there are noticable freezes. But when all elements are present on the viewport, panning makes no freezes.
Video example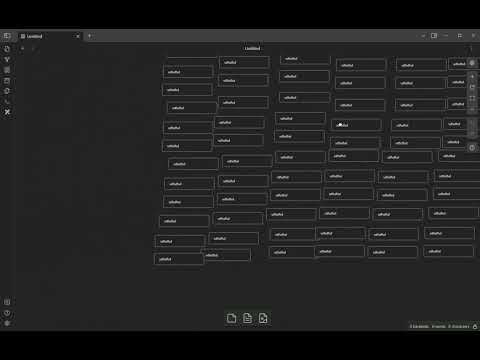 Environment
SYSTEM INFO:
Obsidian version: v1.4.14
Installer version: v1.1.9
Operating system: Windows 10 Home 10.0.19045
Login status: not logged in
Insider build toggle: off
Live preview: on
Legacy editor: off
Base theme: dark
Community theme: none
Snippets enabled: 0
Restricted mode: on
AMD Ryzen 5 4600U
Also checked on another machine, with fresh Obsidian install, with the same result:
AMD Ryzen 9 5900x + GeForce RTX 3060 (200 text cards are required to get the same performanse issue)
---
Additional information
I'm guessing it is because some internal optimisation takes place when the element dissapears from the viewport, but instead of helping the performance it worsens it
Yes, I know, 100 notes is a big amout, but depending on the machine that kind of problem may appear on 40+ notes, which is a reasonable amount. I expect the performance to be comparable to the graph view, where you can have 1000+ notes with the title shown, without any performance issues.
Thank you for developing Obsidian!