Hello community,
i discovered an issue about the pdf-preview within obsidian.
After some research i only found a few posts on reddit and obsidian about this problem but no solution.
Description
When loading an .pdf attachment into obsidian it does not show the files content.
Reason
This happens when the vaults data is beeing accessed via smb share i.e. (\192.168.1.X\foldername) or (\DNSName\foldername).
Workaround:
I was able to work around by mapping a network drive i.e. (Z:\smbfoldername).
Screenshots:
SMB SHARE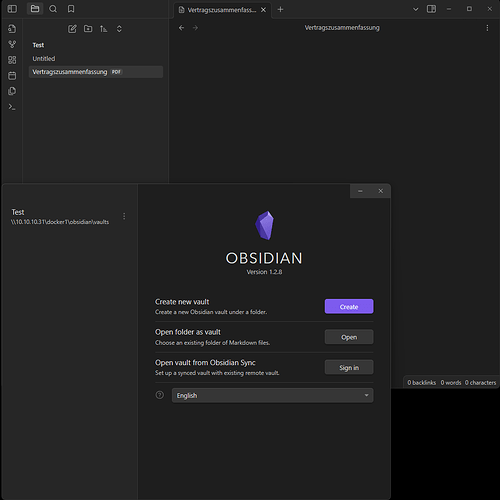 NETWORK DRIVE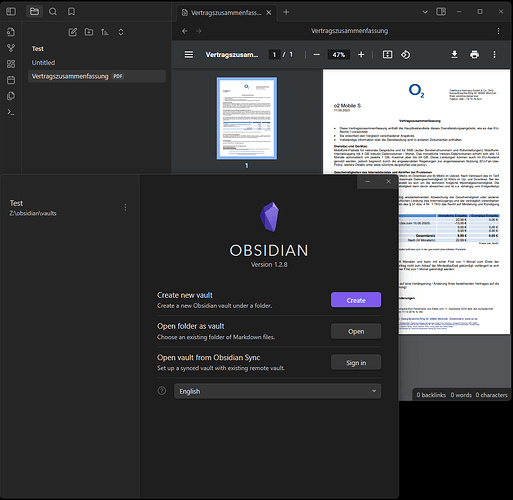 What i tried before
Deleted App Data
Reinstalled Obsidian
Installed Adobe PDF Reader for Plugin
Created a new vault
Coincidentally it worked in the sandbox which made me check the filepath as mentioned above.
I hope to help those few people having the same issue when using shared folders and make obsidian better.
Environment
SYSTEM INFO:
Obsidian version: v1.2.8
Installer version: v1.2.8
Operating system: Windows 1011 Pro 10.0.22621
Login status: not logged in
Insider build toggle: off
Live preview: on
Legacy editor: off
Base theme: dark
Community theme: none
Snippets enabled: 0
Restricted mode: on
RECOMMENDATIONS:
none