Description:
I would like to propose the addition of a "Page Preview" feature in the Obsidian mobile app, which would enhance the user experience when navigating through notes. This feature would be similar to the page preview functionality found in the Chrome mobile app.
Use case
The addition of the "Page Preview" feature in the Obsidian mobile app would significantly improve the mobile reading and navigation experience. It would make it easier for users to explore related content without constantly switching between notes, enhancing productivity and convenience.
This feature would be particularly beneficial for researchers, students, knowledge workers and anyone who frequently navigates through interconnected notes and wants a quick way to preview linked content without losing their place in the current note.
I believe that implementing this feature would make the Obsidian mobile app even more user-friendly and efficient for mobile note-taking and knowledge management.
Proposed solution
Feature Details:
Page Preview: At the moment when a user long-presses a link to another note or a page in View-Mode , a small, non-intrusive pop-up window with further options (i.e. 'open link,' 'open in new tab,' 'rename,' etc.) appears. This pop-up window should include the option 'preview note,' similar to the function in the mobile Chrome web browser (screenshots are in the original post). This window would display the content of the linked note or page, allowing users to quickly preview the content without leaving their current note.
Interactive Preview: Users should be able to interact with the previewed page, such as scrolling, zooming, or clicking links within the preview window. This would provide a seamless and intuitive way to explore related content.
Easy Dismissal: Users should have the option to easily dismiss the page preview and return to their original note, preserving their current location within the note.
---
Thank you for considering this feature request. I'm excited to hear your thoughts and feedback from the Obsidian community.
Attached are screenshots
First State

Second State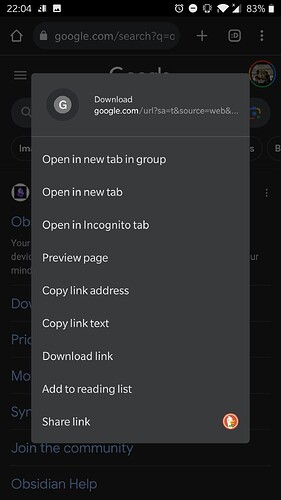 Third State
Preview Page feature in Chrome-mobile