Is here any way to set up headings in a list so you can backlink to them? I have an index set up, but I'd like to ![[Link]] to only one subsection of it.
It currently looks like this though that doesn't seem to play nicely with the linking.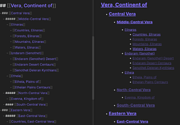 Removing the dash in front of the pounds just formats it as code. And slashing out of it just disables the tree structure of the list.