In previous versions of Obsidian, the window title was showing the vault name first. In 1.0, the currently opened note name is shown first, then the vault name, then obsidian name and version. While it might be helpful for someone working with multiple windows within the same vault, it is a hindrance to productivity when using multiple vaults.
For example, I'm working with multiple vaults, each one using dated notes. When working with a large number of windows open, it becomes impossible to differentiate between the open vaults:


To help with this, I propose a new option in the Appearance settings, called Window title format. On the top of my head, I can see two ways of implementing this:
The simple way
A list of two choices, giving the user the option to choose either "Display vault name first" / "Vault name - Note name", or "Display note name first" / "Note name - Vault name". If there are any additional information added to the window title in the future, more options could be added to the list.
The advanced way
A list of checkboxes, which can be reordered by the user, and elements can be turned on or off. Right now there would be three checkboxes - "Vault name", "Note name", "Obsidian version", and the user could reorder them as they like. The app would display all the checked checkboxes in the window title, separated with the dash (e.g. "Vault name - Note name - Obsidian v.1.0.0").
In the backend, the list of checkboxes would be saved as a formatting string, which could be easily put in the window title. Perhaps it could even be available to the user to edit themselves, instead of handling the checkbox list. As an example, here's how foobar2000 audio player handles this: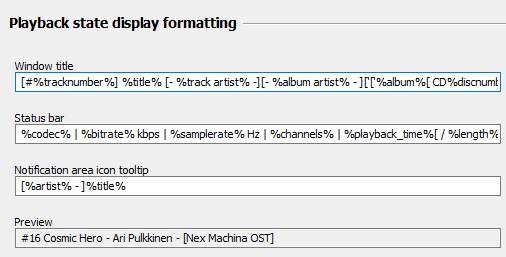 It looks a bit cluttered, because of the large amount of options and conditional formatting, but since within Obsidian it would use just the three variables (vault name, note name, app version) without any special formatting, it would look clean enough:
%vault_name% - %note_name% - %app_version%