Release v2.1.1 of the Obsidian Web Chrome Extension has made it into the Chrome Web store; this release adds a few new features that you might find useful including:
"Note Recall" – Have you been to this page before? Maybe you already have notes about it? When enabled, this will cause the extension to let you know when you have pre-existing notes for the page you're on via a message on the extension pop-up, or, if enabled, by showing a badge on the extension icon while you browse the web. You can use this for things like, for example, reminding yourself that although Audible continues to recommend Neal Stephenson's REAMDE to you, that you just barely made it through Cryptonomicon last time, and that maybe you should save your credit for something that doesn't require a 40-hour listening investment.
Better Snapshots – This release integrates mozilla readability so the markdown page content will include less of the non-readable parts of the page.
A little UI polish, and a few small bugfixes.
& all of the features previously discussed in the initial release note including:
Built-in and custom templates with access to the page URL, title, selected text, as well as page content.
Periodic note support
Etc.
Cheers!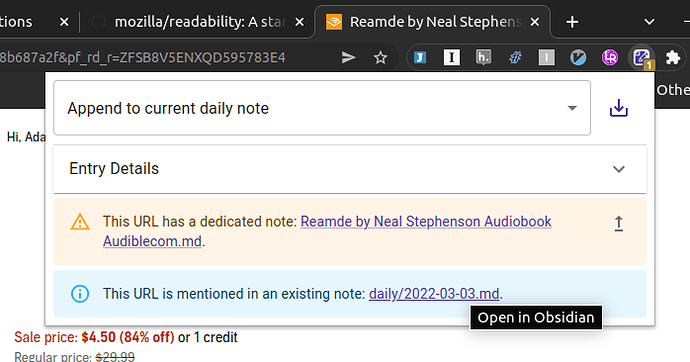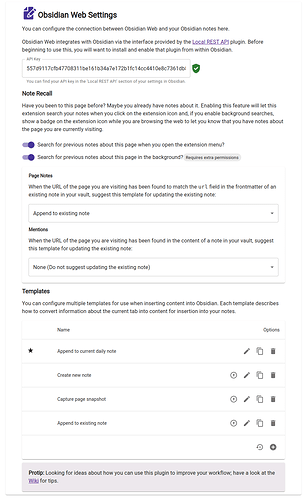 See also: GitHub - coddingtonbear/obsidian-web: Connect your web browser with your notes in Obsidian.