Thank you!

Yes!!! This one! I use it every day of the week, cannot recommend it hard enough

Might as well nominate Obsidian_to_Anki, though it's more of a niche plugin! https://github.com/Pseudonium/Obsidian_to_Anki. It is one of the oldest plugins (was initially a python script).
As you can tell by the commit history, I'm very quick when it comes to updates and feature releases, when I'm not busy with uni! A lot of love and effort has been poured into this.
Nominating Quick Switcher++ by @shydlou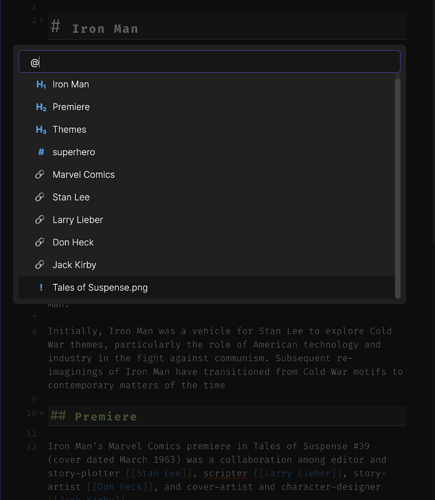 I often take it for granted that it's not built-in to Obsidian core. It's a wonderful plugin that supercharges the quick switcher. While I use a lot of plugins, QS++ is one I use every day.
Plus I'm proud of the ctrl-n / ctrl-p keyboard shortcuts

Surprised it hasn't been nominated yet and not sure if it's too late, but I'll nominate @ryanjamurphy's Review plugin.
Paired with Daily Notes, this is an elegant building block for task management, and makes me excited for the future of organizational plugins in Obsidian.
Plugin name: Citations
Author name: Jon Gauthier
Link to repository if any: https://github.com/hans/obsidian-citation-plugin
Screenshot or screencast if any
I really like this plugin to connect my Zotero library. I like adding an item for one paper with an abstract. Then, I read carefully the abstract and connect existing items or make a new note for such as new terminology.
Thanks for all the nominations, guys!
We're closing this and moving on to voting phase soon. Will let everyone know when voting starts!