Obsidian Citations plugin
As nobody mentioned it yet, I have to do it. On a first view, it may seem rather simple as compared to some other, really amazing plugins - and yes, further development seems to be lagging behind the author's original intentions, but even the plugin's basic functions are incredibly useful.
For me as a (part-time) researcher, much of obsidian's power couldn't be realized if I wouldn't have the possibility to access my bibliography directly from within obsidian, linking my arguments and ideas to articles and books - and all of that without interrupting my current workflow!
Code Editor Shortcuts
As a developer, many of these text editing shortcuts have become reflexive for me and I was missing them in Obsidian's editor. I created this plugin to add that functionality, making the editing experience more efficient for me (and hopefully others as well).
Obsidian Dice Roller by Javalent.
Repo Link
Simply amazing work that Javalent has done for the TTRPG community. Without this, many other tools and workflows could not be done. having a random dice roller allows much better control of random events to be run though obsidian and gives me a chance to flair up my campaign without looking elsewhere.
Workspaces Plus
GitHub - nothingislost/obsidian-workspaces-plus: Quickly switch and manage Obsidian workspaces
I am nominating NothingIsLost's and my plugin, Workspaces Plus. Our plugin makes Obsidians core workspaces feature more accessible and useable by adding a workspace picker button, workspace quick switcher modal, hotkeys to open a specific workspace and more. I use our plugin all the time to navigate between and organize workspaces in Obsidian that are dedicated to different areas and projects in my life. If you're unfamiliar with or unaware of Obsidian's workspaces feature (and by extension - our plugin) consider checking them out!
name: Shortcuts extender
A simple plugin, which I use daily and a lot. As a Russian-speaking user, I do not have direct access without changing the layout to many characters used in the markdown markup. This plugin helps me format the text, less often resorting to the change of layouts - as it is enough to be in the desired line and remember the hotkeys necessary for changing the header level / text transformation in a quote
Not awkward at all. You saved me the time of having to nominate you. There are many amazing plugins out there, but this one is not only useful but introduces us to a solid way of mixing the visual with our notes. I consider it next gen TFT

I'd like to nominate Word Sprint, which was created this year to serve the needs of writers using Obsidian while participating in NaNoWriMo. There are 2 reasons for this nomination:
It's just a great plugin—thoughtfully designed, easy to use and customize, and full of helpful features that are there when you need them but won't get in your way if you don't. As someone who has tried out dozens of pomodoro / writing sprint applications, this one stands apart for its simplicity and usability. And because it's an Obsidian plugin, not a standalone app, it lives right in the same environment that I use to plan, write, and edit my work. I wrote over 13,000 words of my novel in November, all while using this plugin, and I am 100% certain I would not have written that much without it.

The developer has been incredibly responsive throughout the development of this plugin. The Obsidian Discord server had a thread for NaNoWriMo participants, and I basically got to watch as the dev got feedback or bug reports from users in this thread and then turned around an update in real time, sometimes multiple times per day. For me, this was a really great example of why Obsidian is such a unique and powerful tool—the core features of the program are of course wonderful, but the extensibility and community participation aspects of it really make it shine.
Incremental Writing
This is a very solid plugin for spaced repetition. I use it for daily reviews of pages. As we pile more stuff into our vaults, a plugin like this plays an increasingly important role for keeping it in mind. The author is quite responsive.
Shell Commands
Be able to use Shell commands with Obsidian is a tool that make possible to create any thing that you want. The amount of features that this plugin is mind blowing.
The way that @Jare runs his plugin in Git is spectacular. SC is an Obsidian gem saved my obsidian life

react component
https://github.com/elias-sundqvist/obsidian-react-components
If one has a background in front-end development, this stuff can bring considerable fun to the notes and can make the notes an interactive experience. Ah, I love it!
Those who know all understand, those who do not need to know, you know!
Obsidian Big Calendar
Repo Link
It is the first plugin I want to make, and it is beta now. Just want to make adding tasks or editing tasks easier, you can see them in Month\Week\Daily\Agenda view. Those tasks are from your notes and your daily notes, and even Google Calendar in the near future.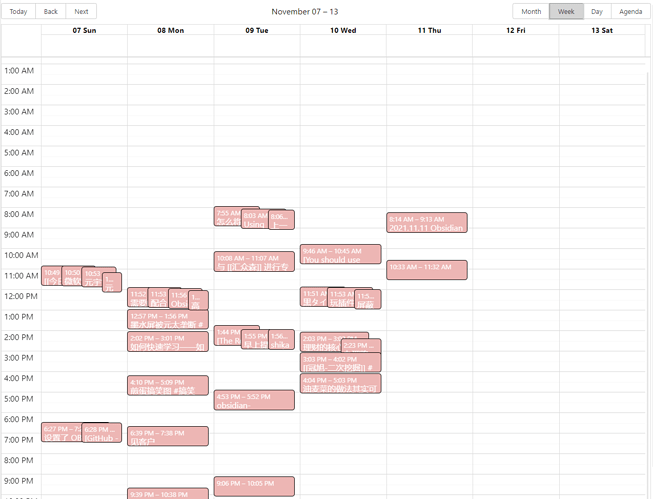 Supercharged Links
https://github.com/mdelobelle/obsidian_supercharged_links
Using emoji to differentiate file contexts has been popular in the Obsidian community, and among content creator public vaults. With a quick visual scan, you can tell if it's a book summary, a daily note, or a note about a person.
But using emoji can be tricky. It doesn't play well with all third-party sync services. It's a manual process, so can be easy to forget… or a pain to change dozens of files if you change your mind.
That's the beauty of Supercharged Links. It takes a simple, customizable, and visible concept, and makes it easier to personalize your Obsidian system to be what you need it to be with just a small snippet of code. You can adjust colour, and apply emoji to tags and unique metadata on the fly. Plus, it works with the Breadcrumbs plugin.
So I'd like to nominate Supercharged Links for bringing simplicity to customization.
adxsoft
The Recent Files plugin is so useful for backtracking your recent work. It's simple, solid and the elegant UI integration into the side panel works well in both desktop and mobile. It's the panel that stays open the most during my obsidian activity.
adxsoft
If you are a visual thinker like me this plugin is a no-brainer. It's so easy to use and create and update drawings. The interaction between Obsidian content and the drawing components is amazing. Update a note referred to in the drawing and the drawing is automatically updated … so powerful.
The developer has comprehensive tutorials and is very responsive.
Style Settings is even better with the new command to open it in a pane so you can see the effects of your setting changes in your current note in real time. This is a major upgrade of this already outstanding plugin.
Thanks for all your nominations! We'll compile all the results into a voting post soon