Hey Community,
i am doing a PHD in Policymaking, and just recently found out that obsidian is the most awesome app ever - yet i have been watching a bazillion youtube Videos in recent weeks and I keep getting lost getting Zotero Integration to work properly as I am completely ignorant about Markdown/Yaml/Programming and whatever you guys are experts in.
Can someone advice me on a minimalist approach on zotero, to build up from there? I got the templates from Bryan Jenks, yet they don't seem to work for me (see picture).
After trying again and again for a few weeks now, I'm just super frustrated.
Thank you so much
Max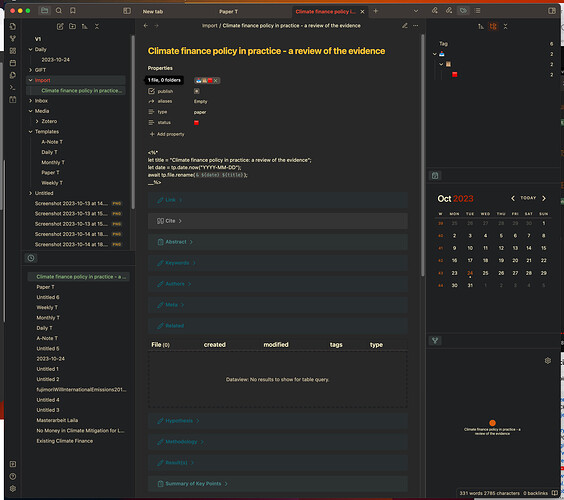 P.S: Wth is wrong with this code?
<%*
let title = "Climate finance policy in practice: a review of the evidence";
let date = tp.date.now("YYYY-MM-DD");
await tp.file.rename(& ${date} ${title} );
__%>