Dates are not working in YAML. You can't change the property type between Date and Time, and using the API to set metadata with (YYYY-MM-DDTHH:mm) or (YYYY-MM-DD) just sets a text field in YAML without parsing it as a Date or Time field (although sometimes YYYY-MM-DD gets set as a Time field, but still not a Date field).
Steps to reproduce
Copy the following code into a note:
---
Date field: 2023-07-29
Time field: 2023-07-29T10:00
Text field: text
---

Then try to change Date field to a Date and Time field to a Time. They don't display the correct types: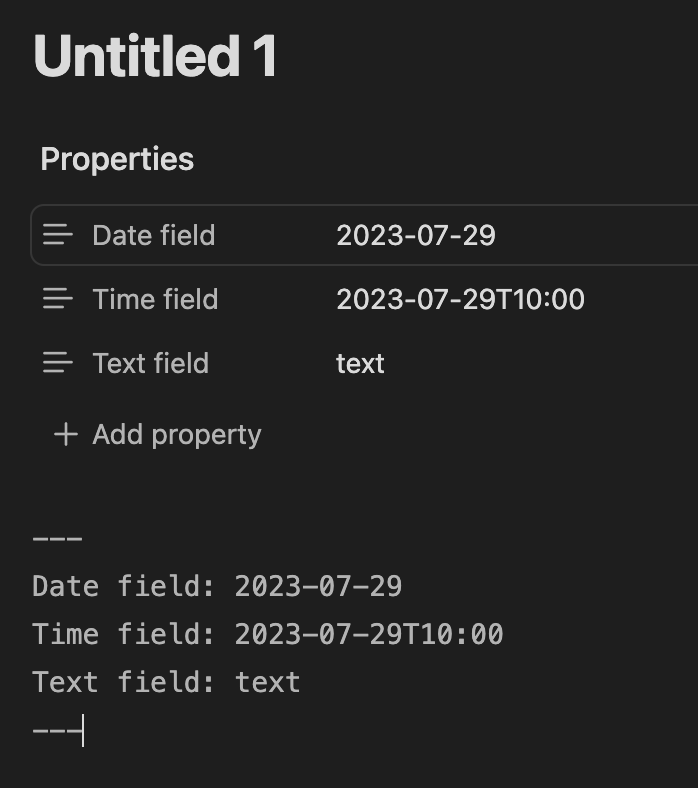 Expected result
Being able to change property values to date and time (reformatting the YAML if necessary)
Automatically parse YYYY-MM-DD HH:mm or YYYY-MM-DD as a date or time field.
Actual result
Dates are parsed as text fields
You can't change text fields to Date or Time fields, or Date/Time fields between each other
Environment
SYSTEM INFO:
Obsidian version: v1.4.1
Installer version: v1.3.5
Operating system: Darwin Kernel Version 22.3.0: Mon Jan 30 20:39:35 PST 2023; root:xnu-8792.81.3~2/RELEASE_ARM64_T8103 22.3.0
Login status: logged in
Catalyst license: insider
Insider build toggle: on
Live preview: on
Legacy editor: off
Base theme: dark
Community theme: none
Snippets enabled: 0
Restricted mode: on
RECOMMENDATIONS:
none