It does what it says on the tin: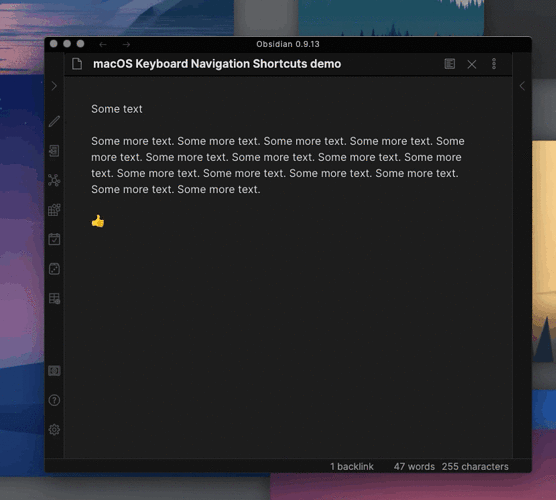 Find it in the in-app plugin gallery or on GitHub.
Thanks, @ryanjamurphy! I've been looking for this. Can you confirm that this works with the Sliding Panes plugin? It seems to only work on the left-most pane when I have multiple panes open. Am I missing something?
It works for me with multiple panes open, and with sliding panes enabled to boot.
I wonder if there's a conflicting shortcut for you. There are some shortcuts that help navigate between panes—try filtering the hotkeys preferences for "pane" to check.
Version 1.1.1 resolves a minor error reported on launch. (The plugin was checking for an active editor when, obviously, Obsidian was only just waking up.)
Installed into 0.9.16 on a Mac, and although the navigation works now I can't type anything! Disabling the plugin gives me back the ability to type, so I'm pretty sure it's the plugin. Any ideas?
Odd, I'm using it myself with no problems. Are you on Big Sur?
Yes, I am on Big Sur. It is really odd, I can't quite figure it out. Haven't tried it with all other plugins disabled as yet (away from my computer at the moment), but I'm wondering if it's some weird interaction thing. Playing with quite a few plugins at the moment.
Will let you know once I'm back home and have done a bit more testing.
Interesting. I just experienced the same—or at least, similar—thing. I could navigate up and down, but couldn't enter text.
However, I disabled this plugin and the problem persisted.
Reloading the app made it go away…
Something to watch.

See the first bug fix in 0.9.17—probably was this issue!
Came here to post the same thing
Yep, I think so!