Steps to reproduce
Open pdf in new pdf viewer
drag pdf viewer tab out of main obsidian window
minimize main obsidian window
scroll down pdf
Expected result
PDF renders each page as you scroll
Actual result
Some way down the pdf the pages no longer load, some pages load blank, some don't load at all.
As soon as the main obsidian window is unminimized the pdf will render correctly. Then when reminimised, pages further down will unrender.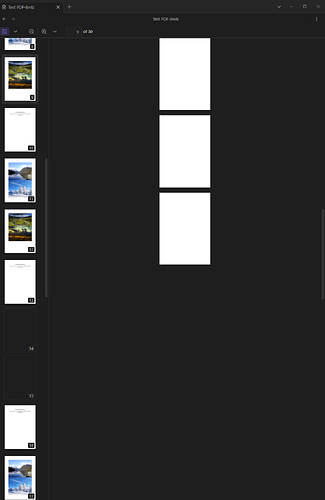 Environment
SYSTEM INFO:
Obsidian version: v1.3.4
Installer version: v1.3.3
Operating system: Windows 10 Pro 10.0.19044
Login status: not logged in
Insider build toggle: off
Live preview: on
Legacy editor: off
Base theme: dark
Community theme: none
Snippets enabled: 0
Restricted mode: on
RECOMMENDATIONS:
none
---
Additional information
Using the zoom in and zoom out buttons at the top of the PDF viewer, seems to randomly change which pages render and which do not.