Steps to reproduce
Create a checkbox and another checkbox nested inside.
Toggle the first checkbox.
Expected result
Only the top-layer checkbox is struck through.
Actual result
The entire block, including the nested checkbox, is struck through.
Environment
Operating system: Windows 10 Home 1903
---
Additional information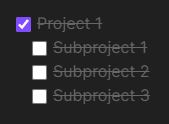 Should only have "Project 1" struck through.