Things I have tried
Hi All,
Appreciate some suggestion on the data capture process for my workout log. What I am trying to do is capturing the progression I am making on a weekly basis. I have a daily note setup from a template where i have listed all the exercises. Please see the format I am using to capture my workouts daily.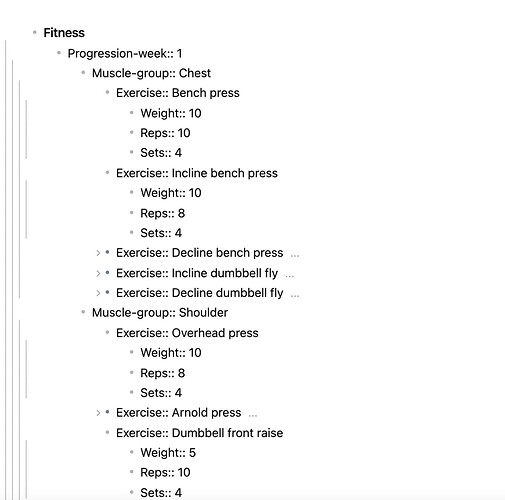 I am using this format so that i can fold unfold the part which is not scheduled for that day.
I know i am making a mistake by capturing data this way, however this is what I need. Please see the query that I have used which is fetching 0 results.
TABLE WITHOUT ID Progression-week AS "Week", Muscle-group AS "Muscle group", Exercise AS "Exercise name" FROM "03. Daily Notes" WHERE Progression-week >= 1 AND Muscle-group = Chest
FLATTEN Exercise

What I'm trying to do
What I need is a query which will show my progression over the weeks for a particular muscle-group.
So something like this (1st line is the header, have used comma to denote the table below)
Progression-week, Muscle-group, Exercise, Weight(In kgs), Reps, Sets
1, Chest, Bench press, 10, 10, 4
1, Chest, Incline bench press, 10, 8, 4
OR
Progression-week, Muscle-group, Exercise, Weight(In kgs), Reps, Sets
1, Chest, Bench press, 10, 10, 4
2, Chest, Bench press, 10, 8, 4
I believe the issue is with the way i am capturing the data and hence the query above is not able to fetch the data. Could you kindly suggest an alternative way of capturing the workout? Many thanks in advance
Regards,
Prague