I was looking for an Obsidian plugin which would render into .svg complex Latex Equations not supported on Obsidian's Basic Mathjax version. I found a plugin which suit my needs, it's called Obsidian-Latex-render(Github) and I installed it manually.
Now, The read.md for this is super dense and I can't understand a blind word. I need your help making this work.
What I know (or I think I know)
I need to have a Latex Installation natively on my desktop, which I have(screenshot)
I need to have installed this plugin, which I have(screenshots)
I know how to use it partially, it's supposed to render latex code blocks like this one(image) but I don't know how
Now, when I entered the settings, I found out that I was supposed to enter a "Command to generate SVG"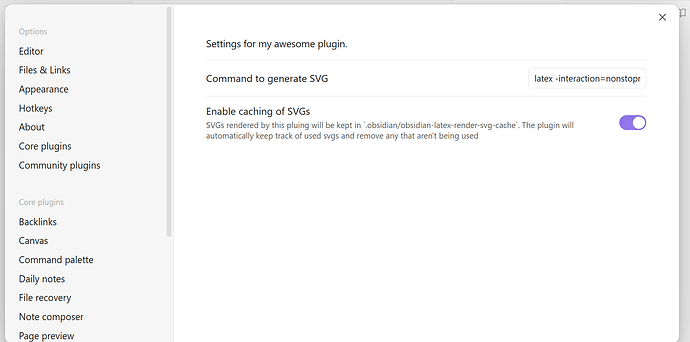 But, I don't know what I should Enter. Again, I have Texlive on Linux.
Can someone visite the Obsidian Latex Render github page and tell me how to use this extension?
Seriously, the author could have done a better job of showing us how it works.
I don't know what else to include, but I will include additional info if any on replies which would contain keywords "edit#1", "edit#n" etc
Thank you very much for your help!
README.md (5.7 KB)