What I'm trying to do
I created an obsidian account, after I had already created some files and written some notes in them. Eventually, I signed in to my account and when I try to open my files, they dont open and I get the following pop up: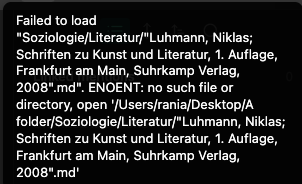 Btw: the graph still shows the links between the files, just the notes dont open.
Things I have tried
I tried to look for the trash folder but couldn´t find it. I looked in my icloud and also couldn´t find the files there. I dont know what to do. I cant just rewrite those notes from scratch again.
I´m desperate for some advice!