This is pretty basic but I was pretty impressed with myself when I figured it out.
I like to have my questions as separate notes so they become small MOCs in their own right. But due to file names not allowing special characters this wass causing issues. What you can do though is add an emoji question mark as the puntuation and it will be accepted
For example: [[How do animals perceive time❓]]
Using this means that I can make a question link in the document that I am working in without going to a separate Questions page.
It also makes for very easy querying of questions. You just type in

in the search box and you'll get all of your questions with no tagging necessary.
There are even two versions of the question mark emoji,

and

. You could use the red for open questions and the white for ones that have been answered.
I also like having a page where all of my questions are collected so I have setup embedded queries on a [[

Questions]] file to pull in all open and closed questions. The queries would be as simple as:
Open Questions
❓ -"❓ Questions"

Closed Questions
❔ -"❓ Questions"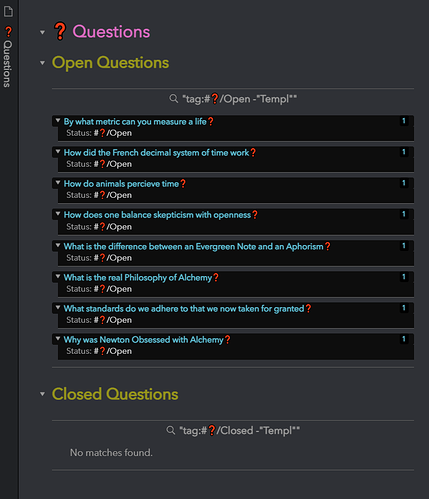 Looks a little bit different because I use a tagging structure.
Thanks to @tallguyjenks and the youtube videos he puts out for introducing me to a lot of the ideas.
Now I should go away and try to actually answer some of these questions