Hi all!
I love this community and it's my first post ever, so it sucks it has to be on the help section, but here it goes:
I was using my vault normally when suddenly I noticed my graph view was all gray, all my Group colors and my filters where gone. It essentially restored to default settings, but I never clicked it! Interestingly, the local graph view did retain the settings, so I will be able to copy them manually to the big graph view. (Though actually, it saved like an older version of my settings, because I had already fixed some tags and added a new group color, and that doesn't show on the local graph either. So it's like it went back to an old back-up or something? Strange.)
Things I have tried
I tried restarting Obsidian, but it didn't help.
I also tried disabling the Workspaces core plugin, since I read somewhere it didn't save graph settings? But I had enabled it a few days ago and I had used the graph view with it, so I'm not sure that's the case. At any case, it didn't help. I also restarted Obsidian once again.
I also have another vault, and opened that one, but I don't have any settings on that graph view to compare to.
What I'm trying to do
It would be great if I could restore my settings (like i'm secretly hoping it's saved somewhere and I just have to click a button to restore it, lol), but if not, I'm wondering what happened and how to prevent this from happening again? Though I know it won't be easy to guess just from this post. But maybe someone else went through something similar?
Screenshots
Normal Graph View with Settings:

Gray Graph View without Settings:

Local Graph View: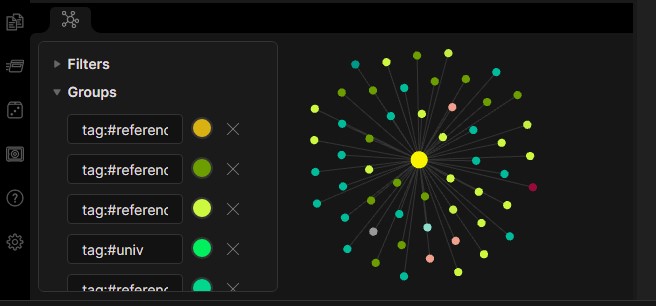 Anyone else had this problem?
-Saraí