Steps to reproduce
Use Obsidian 1.0.0
Create a new tab
Expected result
The tab looks normal and says "new tab" or the name of the note
Actual result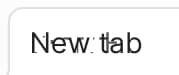 Environment
Operating system: Fedora Workstation 36
SYSTEM INFO:
	Obsidian version: v1.0.0
	Installer version: v1.0.0
	Operating system: #1 SMP PREEMPT_DYNAMIC Wed Oct 5 21:31:17 UTC 2022 5.19.14-200.fc36.x86_64
	Login status: not logged in
	Insider build toggle: off
	Live preview: on
	Legacy editor: off
	Base theme: light
	Community theme: none
	Snippets enabled: 0
	Restricted mode: off
	Plugins installed: 8
	Plugins enabled: 5
		1: Emoji Shortcodes v2.1.2
		2: Advanced Tables v0.17.3
		3: Kanban v1.4.5
		4: LanguageTool Integration v0.3.0
		5: Obsidian Git v2.6.0

RECOMMENDATIONS:
	Community plugins: for bugs, please first try updating all your plugins to latest. If still not fixed, please try to make the issue happen in the Sandbox Vault or disable community plugins.

---
Additional information
I installed Obsidian with Flatpak. Don't know if this is somehow relevant to the issue.