What I'm trying to do
I'm trying to create a dashboard. It has been mostly compromises and trying to come up with ways to get what I wanted to be accomplished. Right now, I'm using the dashboard++.css to get a look like this.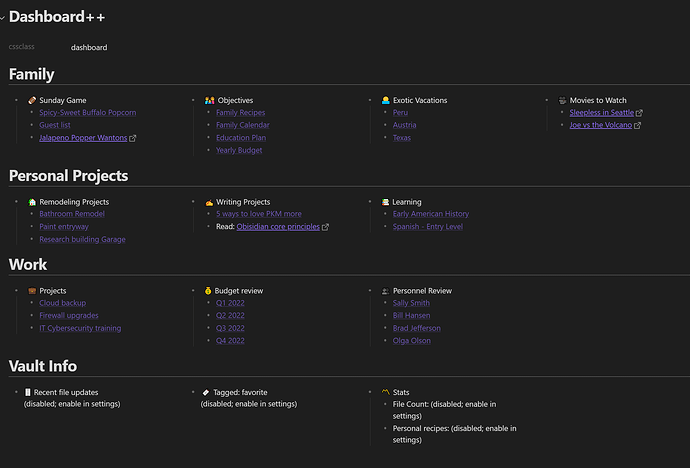 I have a daily, weekly, monthly, etc. note set up using periodic notes. I'm trying to find a way to have links for this on my dashboard set up for the current day, month, week, etc.

For example, I want this link here to open up a daily note template, the way that clicking on the day on the calendar plugin would.
Things I have tried
I've tried using the "buttons" plugin, but that works with a code block that breaks the bullet formatting that's needed for the CSS. Just to make it clear, I have the daily note turned off in the core plugins, so the periodic note can function normally. I need a solution that will work with my other periodic notes, not just the daily ones. I also use the beta version of periodic notes that allows multiple instances, so multiple types of daily, weekly, monthly notes.
Would an internal link work? I tried looking into ways to make that work with this setup, but so far no luck.
A great alternative is a way to get buttons to work in a dashboard format, so I don't have to do any weird fiddling, but so far I haven't found a way to do that.