Hi,
Can someone help me to resolve my problem ?
What I'm trying to do
I want reading view to be the same as live preview (no spacing betwwen ("blablabla" and the first item of my list).
Here is the live preview :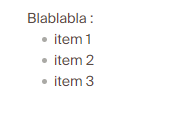 Here is the reading view :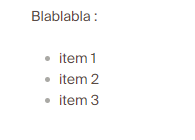 Things I have tried
I looked in the settings but couldn't find anything
Can this be solved with a CSS snippet ?
NB : I use Minimal Theme.
Thanks for your help !