Hi all, this is my first time posting to the forum having been a long-time admirer from afar
I'm not sure how much this has been specifically discussed on the forum but right now I'm particularly interested in the idea of knowledge management workflows i.e. how people process different types of information, take notes, and put those into Obsidian.
After watching lots of YouTubers' videos to understand their workflows (namely Brian Jenks and his video - My Comprehensive Obsidian Workflow For Zettelkasten and Evergreen Notes) I decided to create a diagram using Mermaid.js to outline how I process the media I read, watch, and listen to.
I would be really curious to see if other people have a similar type of diagram they'd be willing to share here to give some insight into their process.
Personally, I'm struggling a tiny bit with how to get useful nuggets of information from Podcasts I listen to so I'm still trying out a few different methods to get this part more concrete.
In most circumstances though, my main "output" from listening to podcasts (aside from what I learn from simply listening) is the resources linked in the show notes which are normally web articles to read; so no issues there.
Anyway here is my diagram (any feedback welcome)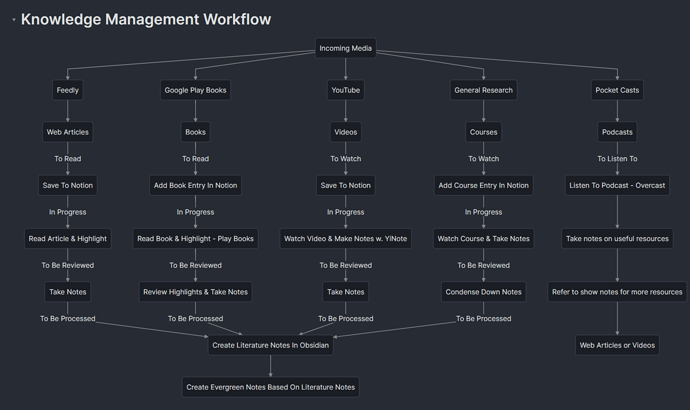 Thanks