Not sure if this is an iPadOS 16Beta bug or an Obsidian bug, so I'm reporting it here so someone with more knowledge is aware of it.
I'm using an iPad Pro 12.9" with M1 chip, running the first public beta of iOS 16 - because I wanted to try out Stage Manager (the simple windowing system for the iPad).
I'm also using Universal Control - so I'm controlling my iPad using the keyboard and trackpad from my Macbook Pro.
I've also tested this using an iPad Mini running iPadOS 15 and Universal Control and everything works fine - so the issue is somewhere in the interaction between Obsidian and iPadOS16/Stage Manager. However, I've not noticed this behaviour on any other iPadOS16 apps so far - regardless of Stage Manager.
Basically with iPadOS16 and Universal Control, Obsidian works OK. But if you switch Stage Manager on, Obsidian displays the keyboard area and toolbar - but with no keyboard. It seems to think there is no keyboard attached (which is physically true, but logically untrue).
This happens whether Stage Manager is displaying Obsidian as a floating (resizable) window or as a full-screen window.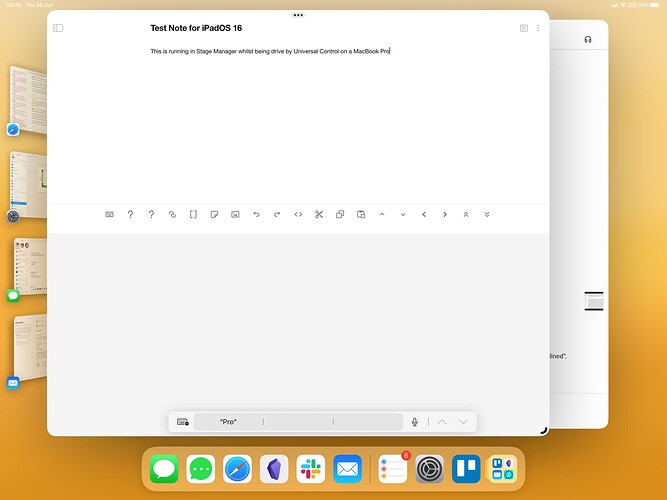 Again, switching Stage Manager off makes it work OK - but having Stage Manager on or off doesn't seem to affect other apps in a similar way, so it seems to be something particular to Obsidian.