Hey esm90
First of all, thank you for your awesome Map View plugin! I just discovered recently because my wife and I want to get better at logging our photography trips, and it is absolutely perfect for it.
I'm currently using it to document locations I've been to in France, and running into a quick or bug with how locations are displayed in embedded maps.
Context
I am documenting my trip in one long document (in my case called 2023-03_France.md), which contains quite a number of inline geolocation links (noteworthy things discovered along the way, such as a random viewpoint on a mountain pass) and also references external "global" geolocation notes (such as cities I've visited before but also visited on this trip, e.g. Paris). The map I've set up for this entry contains all entries from the trip log itself as well as any external notes linked in it (i.e., "query":"path:Travels/2023-03_France OR linkedfrom:Travels/2023-03_France/2023-03_France").
So far so good! I discovered something that I found surprising and could not find any documentation on, relating to how inline geolocation links are parsed. If this is not in fact a bug but just a feature quirk and it turns out I'm "holding it wrong", that's fine for me… I just need to get this off my chest & would be happy to help get this fixed, if it is indeed a bug

Issue: Display of inline link titles
I noticed that inline links that are displayed in the map always show the title of the document they are contained in, rather than the actual link title.
For example, in my 2023-03_France trip log, I am noting the hotel I stayed in: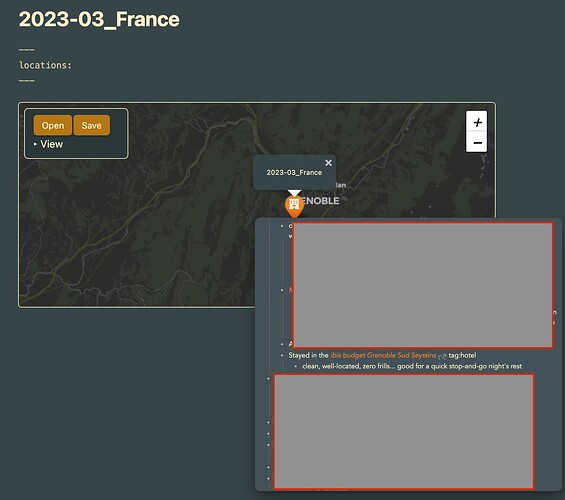 Screen shot: Hovering over the pin of the hotel, it shows "2023-03_France" as the pin title (which is the parent document – I would have expected that to read "ibis budget Grenoble Sud Seyssins", which is the title of the actual link). As it is, I now have multiple dozen points (and counting) on the map all entitled "2023-03_France" and you have to read the popover highlight text to see what it actually is.
As mentioned above, I also have some external notes linked in the trip log (such as "Mont Saint-Michel", where I have a number of detailed pins on photo spots, hiking trails, etc), and they all just show up as "Mont Saint-Michel" for all of their pin titles, which is only semi-helpful.
Do I have something configured wrong or is this actually a link display bug?