What I would like to do
I would really like to have a more descriptive title of my CSS snippets, and wonder whether it's possible to specify something instead of the file name.
Things I have tried
I've tried searching around, and looking at a lot of CSS snippets if they had some hints or clues related to setting this sort of title. And I've tried adding a comment at the start of one of my CSS snippets like shown in the image below: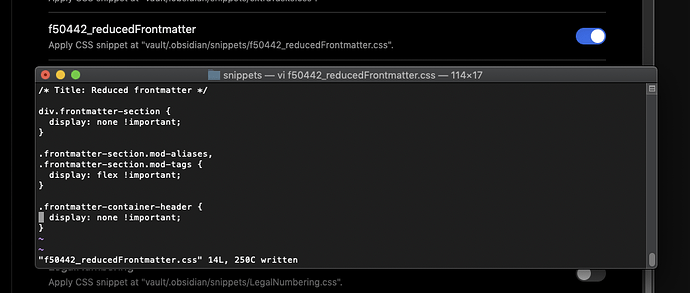 As can be seen the title is identical to the file name, aka f50442_reducedFrontmatter, but I would love to have a different title not equal to the file name. I.e. wouldn't it be nice to just have "Reduced frontmatter"
Is this possible somehow, or is my only option to actually change the filename into a more readable/nicer title variant? (And I don't want to do that last one, as I'm currently using it to track origin related to forum questions, and so on (and yes, I know I could add it into the file, but it would be a sub-optimal solution)).