Once you've done the above, delete everything above this line.
Steps to reproduce
Create a new file
add header followed by text
add another heading followed by text
compare read mode with edit preview mode
Expected result
The same spacing to be shown in reading mode as in live preview - this also affects printing.
Actual result
The reading view shows extra padding that is not reflected in the live preview.
Environment
SYSTEM INFO:
Obsidian version: v1.4.5
Installer version: v1.3.7
Operating system: Darwin Kernel Version 22.6.0: Wed Jul 5 22:21:56 PDT 2023; root:xnu-8796.141.3~6/RELEASE_X86_64 22.6.0
Login status: not logged in
Insider build toggle: off
Live preview: on
Legacy editor: off
Base theme: dark
Community theme: none
Snippets enabled: 0
Restricted mode: on
RECOMMENDATIONS:
none
---
Additional information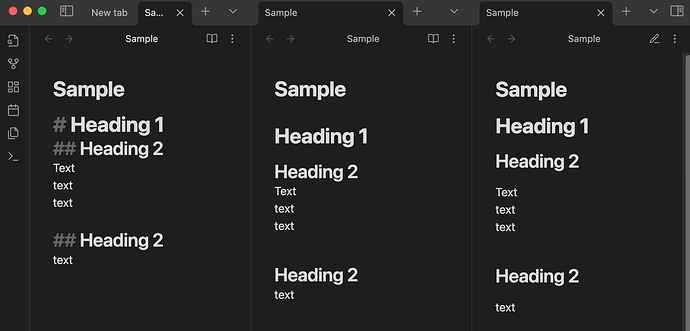 I have developed this CSS snippet to fix the issue, but *:not(.HyperMD-quote) may leave 1 or two cavities, and ideally don't want to use important
  /* Fix on header margin so editor and preview reflect the same padding */    
  body {    
    --heading-spacing: var(--p-spacing);    
  }    
      
  .markdown-source-view.mod-cm6 .cm-content > .HyperMD-header + *:not(.HyperMD-header) {    
    /* dont use margin-top, it breaks cm-line, skipping empty lines when trying to navigate */    
    padding-top: var(--p-spacing) !important;    
  }    
  .markdown-source-view.mod-cm6 .cm-content > .HyperMD-header + .cm-line.cm-active:not(.HyperMD-header) {    
    padding-top: var(--p-spacing) !important;    
  }