I have 3 folder (or 3 types of notes): Job, Person, Department. In a job note there are Person:: field and Department:: field to other notes of other types. In a person note there is Department:: field.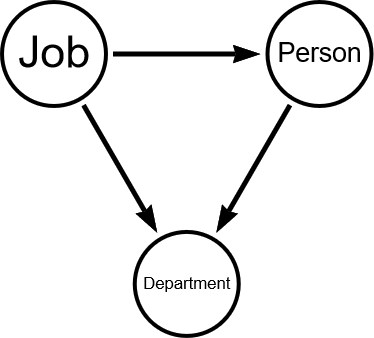 In the homepage I want to query a table of all departments and its personnel. In a simple backward query I can use
Table filter(file.inlinks, (p) => contains(p.department, file.link))
from "Department" 

However this will clutter with the job notes. I need to further filter the inlinks to get only the person ones. How can I do that? It seems that I cannot use nested filter like this:
filter(filter(file.inlinks, (f) => contains(file.folder, "Person")), (p) => contains(p.department, file.link))

because the file in the second filter should not be a department note, but a person one. But in this query it is.
I've looked at the Dataview Example Vault but it doesn't seem to have something like this. If I get the answer I will add to it.
I know the simplest solution is to use different keys for department in job and person. However I want to push my DV skills to its limit