When it comes to the management and development of ideas using linked notes, we need new frameworks to be our best. The rigid folder-only system we all grew up with is stunting our link-based thinking. We need Fluid Frameworks…
With link-based notes for developing ideas, there are some interesting patterns that start to form. These patterns follow "Systems Thinking" and jive with terms like "emergence, divergence, and convergence."
For example, at "Emergence Level 1" we go from the nothingness of fleeting thoughts »» to the "somethingness" of a concrete note (see below).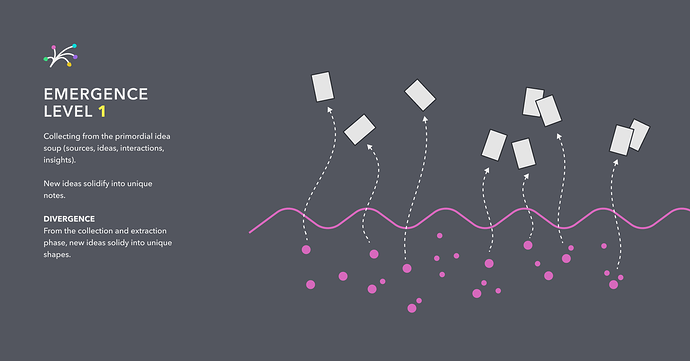 ---
As we make notes that link to other notes, we enter "Emergence Level 2".
The standard Zettelkasten Method is focused on Emergence Level 2 (pictured below). But sometimes, you want a birds-eye view—at least I do. That's where MOCs (Maps of Content) come into play (top of the picture):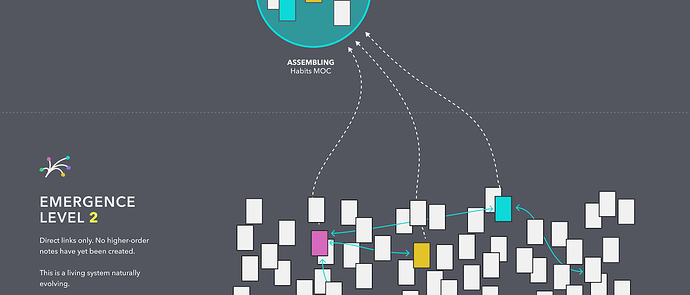 ---
I love this entire concept and it's been extremely helpful for my knowledge work—and I want to share it clearly with EVERYONE!
So I'm running a webinar this SATURDAY at 11:00 AM PST (Los Angeles Time).
It's to fully introduce this awesome concept: THE 5 LEVELS OF IDEA EMERGENCE.
I'm very excited to share this with everyone here—and the broader PKM community.
---
If you're interested in attending the webinar, Learn More and Register Here.
---
If you want a 20-second teaser of the webinar, check out this quick video. You can register below the video as well.
Nick