As on screenshot: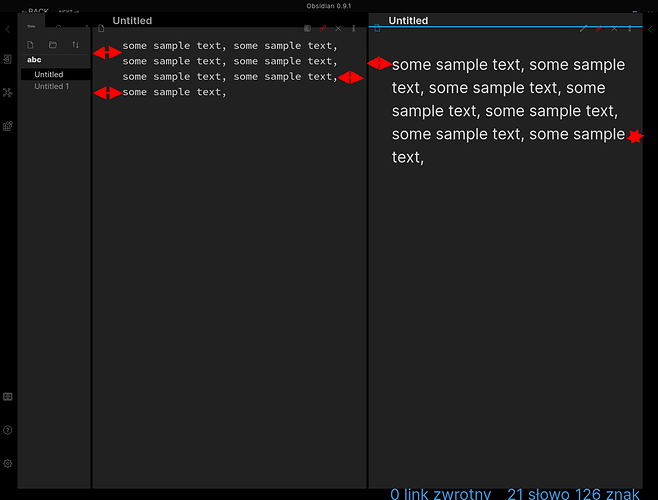 On the left pane is editor, on the right preview
Why font size on the right pane is different from the one on the left?
And how to set values for the margins (arrows in red)? They are so wide.
Would be nice if someone could provide a nice screenshot with how certain elements are referred to in css.
This is what I pasted to custom.css
:root

/* normal text other than headings and code */
.cm-s-obsidian
{
  font-size: 40px;
}
{
    --font-size-normal:              40px;
    --font-size-code:                40px;
    --font-size-side-dock:           40px;
    --font-size-side-dock-title:     40px;
    --font-size-status-bar:          40px;
    --font-size-h1:                  60px;
    --font-size-h2:                  40px;
    --font-size-h3:                  40px;
    --font-size-h4:                  40px;
    --font-size-h5:                  40px;
    --font-size-h6:                  40px;
} 


/* normal text outside of headings and code of editor */
.cm-s-obsidian, .mod-single-child .cm-s-obsidian {
  font-size: var(--font-size-normal);
}

/* normal text outside of headings and code of preview */
.markdown-preview-view, .mod-single-child .markdown-preview-view {
  font-size: var(--font-size-normal);
}

/*preview padding too small*/
.theme-light .markdown-preview-view, .theme-light .mod-single-child .markdown-preview-view {
  font-size: var(--font-size-normal);
}

/* code blocks in preview */
pre code {
  font-size: var(--font-size-code) !important;
}

/* font-size of in-line block for preview */
.markdown-preview-view code
{
  font-size: var(--font-size-code);
}

/* Editor CodeBlock TEXT Appearance */
.cm-s-obsidian pre.HyperMD-codeblock {
  font-size: var(--font-size-code) !important;
}

.search-result-file-matches, .search-empty-state {
  font-size: var(--font-size-side-dock);
}

.workspace-leaf-content[data-type="tag"] .tag-pane-tag-count,
.workspace-leaf-content[data-type="tag"] .tag-pane-tag-text {  
  font-size: var(--font-size-side-dock);
}

.workspace-leaf-content[data-type="backlink"] .search-result-file-matches {
  font-size: var(--font-size-side-dock);
}

/* search result in backlink or file search */
.search-result-file-title {  
  font-size: var(--font-size-side-dock-title) ;
}

/*status-bar*/
.status-bar{
  font-size: var(--font-size-status-bar);
}

/* headings for editor and preview */
.cm-header-1, .markdown-preview-view h1
{
  font-size: var(--font-size-h1);
}

.cm-header-2, .markdown-preview-view h2
{
  font-size: var(--font-size-h2);
}

.cm-header-3, .markdown-preview-view h3
{
  font-size: var(--font-size-h3);
}

.cm-header-4, .markdown-preview-view h4
{
  font-size: var(--font-size-h4);
}

.cm-header-5, .markdown-preview-view h5
{
  font-size: var(--font-size-h5);
}

.cm-header-6, .markdown-preview-view h6
{
  font-size: var(--font-size-h6);
}