What I'm trying to do
I'm trying to query all bullet lists in my daily notes that don't start with - [HH:mm] (journal)
only normal lists - (fleeting thoughts)
I love to see all of them queried under their specific date (file title or date property).
If there's a way to filter only lists under my ## Entries heading. Would be even better
Example:
2023-08-11

Fleeting thought one
Fleeting thought two
Things I have tried
I got the idea from this query I found somewhere in the forum
The query finds every parent bullet that has a date and children bullets that have a specific filter.
I tried messing with this but my knowledge is quite limited.
LIST rows.topicText
FLATTEN file.lists as item
FLATTEN filter(item.children, (l) => contains(l.tags, "#quote")).text as topicBase
FLATTEN topicBase + " (" + file.link + ")" as topicText
WHERE meta(item.section).subpath = "Entries" 
  AND regexmatch("\d{4}-\d{2}-\d{2}", item.text)
GROUP BY item.text
SORT key ASC

The one I'm using to query all bullets without grouping them into their date is this one. Entries that start with - [HH:mm] are already filtered. But theres two problems with it. 1 - It queries tasks too. 2 - When - [HH:mm] is filtered, it doesnt show the content, but the table line still appears
TABLE WITHOUT ID regexreplace(Lists.text, "\[.*$", " ") AS Notes, file.link AS Related 
FROM "CALENDAR/Daily" 
WHERE file.lists 
FLATTEN file.lists AS Lists

How the query looks like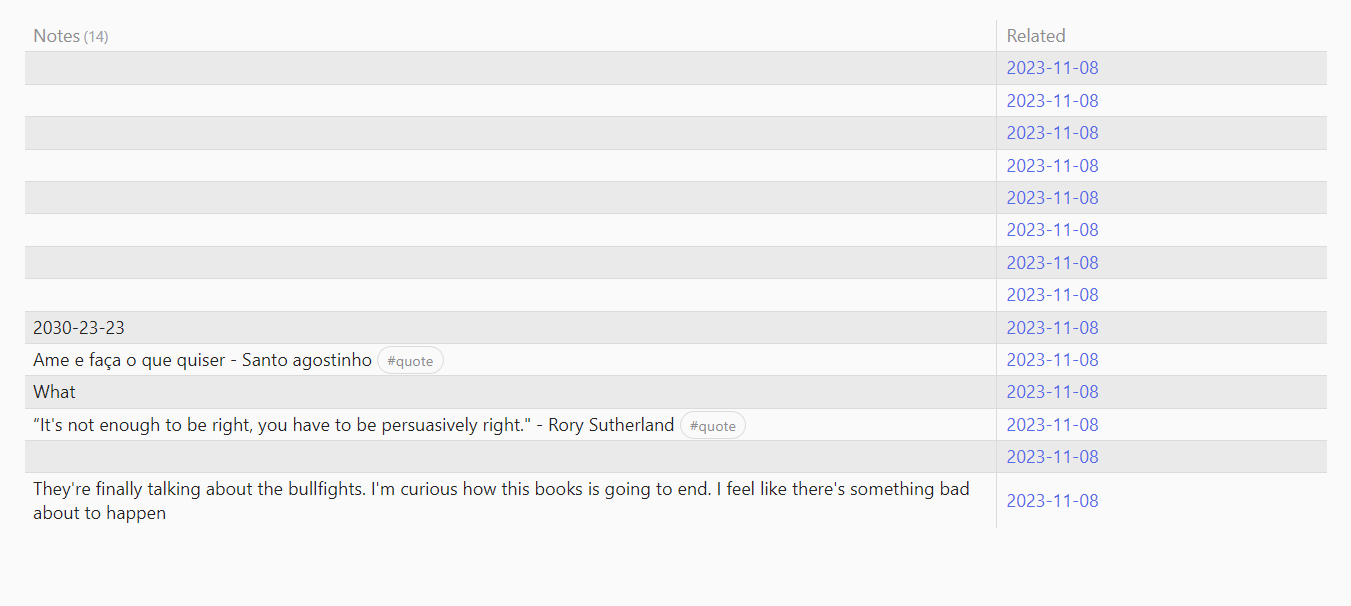 PS: how do I learn about building dataview queries? The documentation doesn't have anything about most of this