Hello, new user here,
So far loving things, but I have small issue.
I set up a vault locally, then decided to subscribe to "sync" and connected it to that vault.
Now I would like to move that vault to a new directory/hard drive. I get an error message when attempting to use the "move vault" dialogue.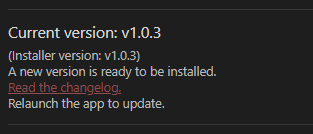 Using Windows, iOS 14, iPad OS
Things I have tried
Used the native "move vault" command from the vault switcher.
What I'm trying to do
Move the local files on my PC to a new directory for a vault I am syncing.