What I'm trying to do
Hi I have Obsidian Tasks and Obsidian Columns installed and I'm trying to make a list of tasks I have to do within a column, some of these tasks have sub-tasks. When the code is outside of the column I'm able to collapse the subtasks but once placed inside I can't. Is it a glitch or is there some bit of code I'm missing?
my code currently looks like this:
flexGrow=2
===
jewelry pieces 

flexGrow=1
===
to-do 
[ ] model and render jewelry #jewelry #activestep #jewelryactivestep 
	- [ ] model rose ring
	- [ ] model atom ring 
	- [ ] model waterfall earrings 
[ ] search for apprenticeship #jewelry #jewelryactivestep 
[ ] assemble portfolio #jewelry #jewelryactivestep 
	- [ ] decide on a platform (digital website, PDF, etc.)
	- [ ] actually design portfolio 
	- [ ] complete renders of 4 best pieces  

This is what I mean by collapse btw, this is what it looks like when not in a column:
not collapsed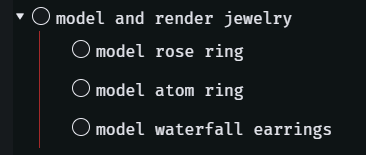 collapsed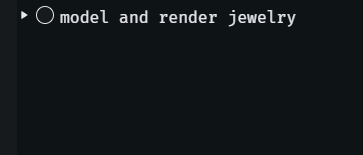 when I put it in a column (code seen above) this is no longer an option
Things I have tried
Reading over the obsidian tasks website, I couldn't find any mention of it conflicting with columns.