Hi
how can i download insider builds? I'd like to try 0.7.6 but i can't find the download link… thanks.
See the info about Catalyst on the Pricing page:

I noticed this and I am a Catalyst, still I couldn't figure out how to install the insider build.
In Preferences → About, do you see a toggle for "Receive insider builds?" Else, what is your Installer version (just underneath the Current version on the same pane?)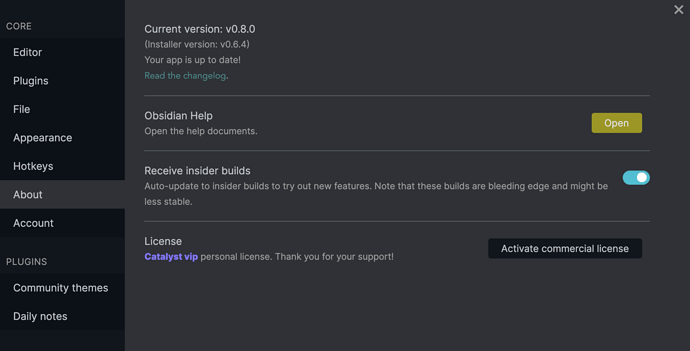 yes, thx. I overlooked this.
And the insider builds channel in Discord. Do I have to ask someone to be included (in order to receive the release notes)?
Hi can you provide some info on how to have access to insider builds ?
I don't have the option on the About menu.
Do you have an Insider license?
@ryanjamurphy This should probably be mentioned on the Catalyst purchase page. I believe it says to 'sign in' in the Obsidian app, but makes no mention of needing to enable this setting in About.