Disclaimer: I am one of the creators of Snipd, a podcast app to highlight & take notes from podcasts.
Context
I get a lot of knowledge through listening to podcasts like Andrew Huberman, Lex Fridman, The Product Podcast, etc. I use the Snipd podcast app to highlight my favorite moments, take notes, and then export them with the transcript & summary to a Notion db, organized per episode.
I am now eager to try out Obsidian, and before getting started wanted to ask how others are organizing their podcast knowledge in Obsidian.
My plan
One page per episode, with episode title as the filename, containing:
meta-data of the episode (show notes, publish date, url, guest names, image etc.)
every highlight I have created for that episode, including:

my personal notes (including custom tags & backlinks)
summary
transcript
the start & end timestamp of the highlight in the podcast
URL to the highlighted podcast moment

Backlinks

the podcast show (e.g. [[Lex Fridman Podcast]])
host-name (e.g. [[Lex Fridman]])
guest names (e.g. [[Joscha Bach]])

Tags: #podcasts
Optionally, one page per podcast show (e.g. Lex Fridman Podcast) if I have thoughts/notes which do not directly relate to an episode.
How are you organizing it?
---
---
Example
Screenshots: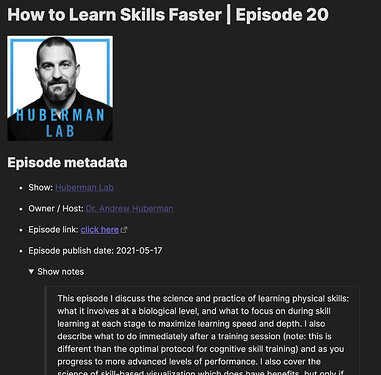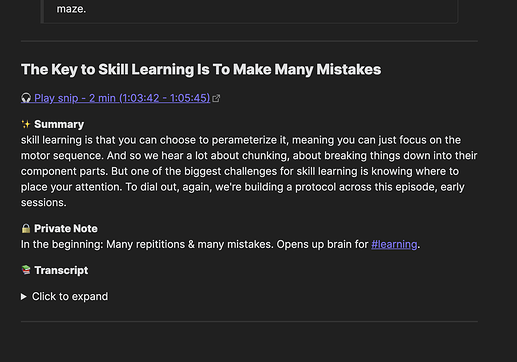 The Markdown file:
How to Learn Skills Faster - Episode 20.md (12.0 KB)