As you know Eagle https://en.eagle.cool/ is a collect, search and organize your image files tool.
As we know Obsidian is focused on markdown note files tool.
But when we organize note-book file, we also need to organize image files, right ?
Whatever you're designer or not, most people need organize image files.
So, let's take a look at Eagle's features
Hierarchical Folder, Tag Management, filter , search, clipper .
Look this layout, it's really simillar with Obsidian, right ?
Hierarchical Folder in the left ,
The middle is viewer.
The right is like the pane for organize tag, backlink ,etc.
So, The idea is comming,
Why not we organize image files in Obisidan ?
Why we need 2 tools to organize note files and image files ?
What if Obsidian integrated images features ?
What for ? simply and powerful answer: for more and more convince
Get the point ?
I know, Obisidan is not a specific image management tool, but we could try to integrate image features .
As a image tool , I don't think they(Eagle) will add more advanced note features. such as , add backlink feature? , add graph view feature .
That's not make sense for a image tool , right ?
So, I think there's a possible add image features in the note tools.
Usually our image files are placed /attachment/img folders in Obsidian.
So when we open the img file, we'll orangize image files ,like in Eagle tool.
If you don't understand , you can try import one fo exist Obisidan vault to Eagle, play around it , you'll get experience .
like this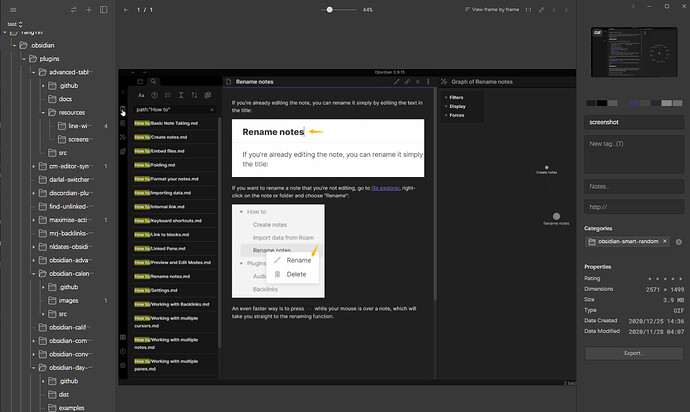 Feature request
There're some important image features what I think .
I'm not saying add all image features in Obisidan, just a little important.
1. Support file formates.
Eagle support 78 file formates

Currently , Obisidan support 19 file formates. https://publish.obsidian.md/help/Advanced+topics/Accepted+file+formats
2. Zoom bar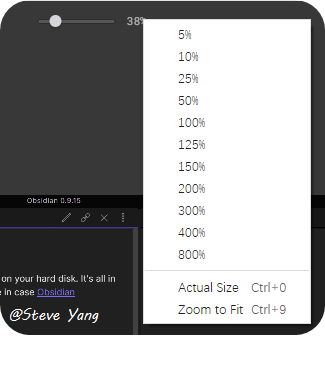 3. Gif player
4. File details/ Properties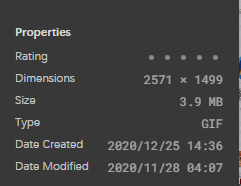 5. Audio player
6. Image List
7. Browse image
8. Customize the Mouse wheel behavior as you preferred
9. Leave notes in a specific timestamp of the video
10. Video Player
I think these 10 features are enough for most user cases. What do you think ?