I have a very complicated Gratitude Journal set up. I have 22 very broad categories in a list to help me think of topics to be grateful for.
In my daily Journal there is a list like bellow but shortened.
#Gratitude-Parents

#Gratitude-Grandparents

#Gratitude-Immediate-Family
Then in my monthly review I have 22 dataview queries that searches my daily journal for these tags and combines themtogether. Here is the query I have right now.
TABLE WITHOUT ID C.text as "Parents"
From "Test_Plugins/Daylie notes/2022/09_Sep"
FLATTEN file.lists as L
WHERE join(L.tags, "") = "#Gratitude-Parents"
FLATTEN L.children as C

Here is the problem. I am not always going to fill every topic and with 22 having a bunch of empty tables laying around cluters things up.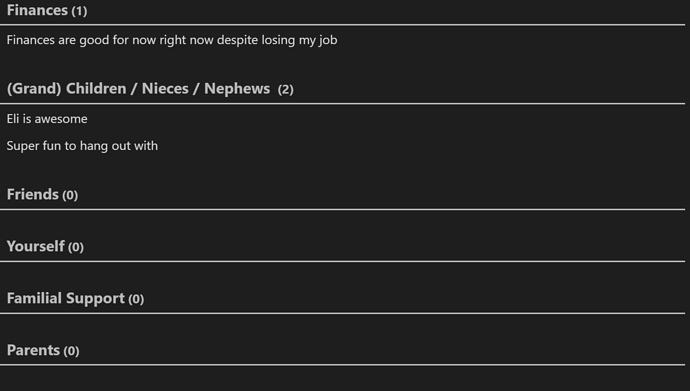 I was reading around the form and found this query by @AlanG. When I put a bunch of his queries in my notes it collapses exactly how I would like mine to.
I just don't know how to convert my query to a js query or make mine show nothing when there is zero lists to show.
const notes = dv.pages('#this-week')
if (notes.length) dv.list(notes.file.link)

Is this possible with normal Dataview queries?