What I'm trying to do
Here is the YAML front matter of a sample note from my Book Inventory in an Obsidian vault. Each book has a document, and each document has front matter structured like this. Note the Inventory: [[2022-08-10 Fri]] item in particular.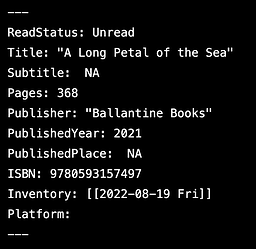 With v1.4, the Properties display – in the note, and in the sidebar – seems to have problems with the Inventory item. A) if flags Inventory as an issue, and (B) the bracketed data (i.e., the link) is put into quotes and made uneditable. This is an automated process – I did not make these changes but they occurred as soon as I updated Obsidian to v1.4.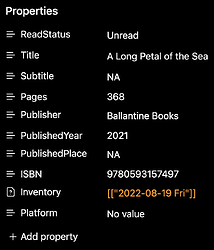 Things I have tried
I can select and cut the Inventory: item out of the YAML in each affected note, and then paste it as an inline field (Inventory::) into the body of the note or in a comment. This is time consuming.
I can add a new text property and insert the journal date link into that property, for example:

I can go into Source mode, and in each note change [[2022-08-19 Fri]] (and similar) to "[[2022-08-19]]", which Properties correctly recognizes as a link.
All of these are time consuming and there seems to be no global way to cleanse the data these ways.
What I would rather have.
I believe when Obsidian evaluates the property-type and values going forward, that it should recognize that a double-bracketed entry is "most likely" a link, and then accurate recognize the property as a text property with as the value.
Since I don't have that, what I want to do
Find a way to correct the error in property assignment in hundreds of notes.