Things I have tried
Searched this forum and Dataview's help but could not find it. Restarted Obsidian, renamed the tags, same result.
What I'm trying to do
When I used this Dataview code I used to see the tasks sorted by file name as is the default view: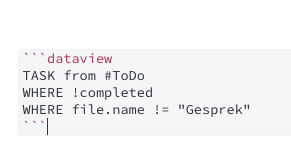 If I now open a page I only see the tasks and no longer the note/file they are in.

Any thoughts on what I am doing wrong?
Thanks in advance,
Arjan