Steps to reproduce
I attempt to show the graph view by clicking the icon on the side strip.
Expected result
I expect to see a full graph of my vault, along with buttons to modify and filter my searches.
Actual result
I see the links for one random note, and no others (I have hundreds of cards in my vault). There are no buttons or menus for filtering or anything.
Environment
Operating system: MacOS 12.6
SYSTEM INFO:
Obsidian version: v1.0.0
Installer version: v0.15.6
Operating system: Darwin Kernel Version 21.6.0: Mon Aug 22 20:17:10 PDT 2022; root:xnu-8020.140.49~2/RELEASE_X86_64 21.6.0
Login status: not logged in
Insider build toggle: off
Live preview: on
Legacy editor: off
Base theme: dark
Community theme: LYT Mode
Snippets enabled: 2
Restricted mode: off
Plugins installed: 73
Plugins enabled: 59
1: Workbench v1.6.1
2: Table of Contents v0.1.3
3: Completed Task Display v1.0.3
4: Pandoc Plugin v0.4.1
5: Find orphaned files and broken links v1.8.0
6: Tasks v1.15.1
7: Rollover Daily Todos v1.0.5
8: Templater v1.14.3
9: Recent Files v1.3.3
10: Periodic Notes v0.0.17
11: Dataview v0.5.47
12: Advanced Tables v0.17.3
13: Kanban v1.4.6
14: Review v1.6.4
15: Emoji Toolbar v0.3.2
16: Timeline v1.1.0
17: Reminder v1.1.12
18: Zoom v1.1.0
19: Archiver v0.9.0
20: Workspaces Plus v0.3.2
21: Completed Area v0.2.0
22: Longform v1.1.0
23: Stille v1.3.1
24: Ghost Fade Focus v3.0.0
25: Dynamic Table of Contents v0.0.27
26: Map of Content v0.1.18
27: Advanced Cursors v0.5.1
28: Flexible Pomodoro For Obsidian v0.6.0
29: Card View Mode v0.4.10
30: TimeStamper v1.2.0
31: Scales and Chords v1.0.1
32: Hover External Link Plugin v1.0.0
33: Itinerary v1.3.0
34: CardBoard v0.5.0
35: Tomorrow's Daily Note v1.0.2
36: Commits v0.2.2
37: Calendar v1.5.10
38: Obsidian42 - Jump-to-Date v1.0.13
39: Obsidian Charts v3.6.3
40: Obsidian Big Calendar v0.3.0
41: Full Calendar v0.6.1
42: Upcoming v0.3.0
43: Latex Suite v1.6.0
44: Extract PDF Annotations v1.0.4
45: Better Command Palette v0.14.0
46: Checklist v2.2.10
47: Excalidraw v1.7.25
48: ExcaliBrain v0.1.11
49: Citations v0.4.5
50: Zotero Integration v2.2.30
51: Zotero Bridge v1.2.3
52: Zotero Link v1.0.0
53: Window Collapse v1.0.2
54: Icon Folder v1.3.5
55: Highlightr v1.2.2
56: PDF Highlights v0.0.4
57: Tag Wrangler v0.5.3
58: Note Refactor v1.7.1
59: Obsidian Tabs v1.0.7
RECOMMENDATIONS:
Custom theme and snippets: for cosmetic issues, please first try updating your theme and disabling your snippets. If still not fixed, please try to make the issue happen in the Sandbox Vault or disable community theme and snippets.
Community plugins: for bugs, please first try updating all your plugins to latest. If still not fixed, please try to make the issue happen in the Sandbox Vault or disable community plugins.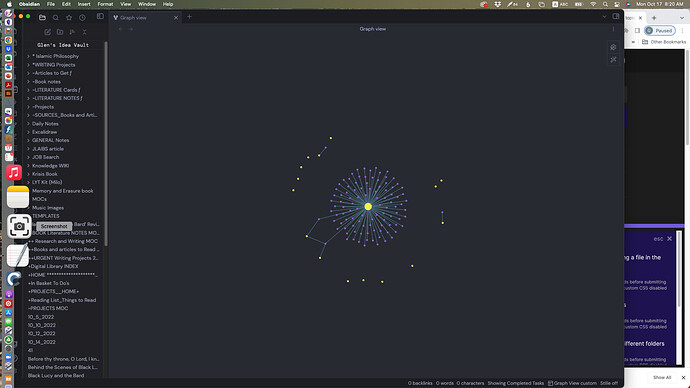 ---
Additional information