Goodsidian
Hi! I created a script that creates new notes for books that are marked as 'currently-reading' in Goodreads. It also updates books automatically that are marked as 'read' in Goodreads. You can find it on github.
Practically, I can easily keep track of my books in Goodreads, run the script when I'm on my laptop and have all of my updated notes straight in Obsidian.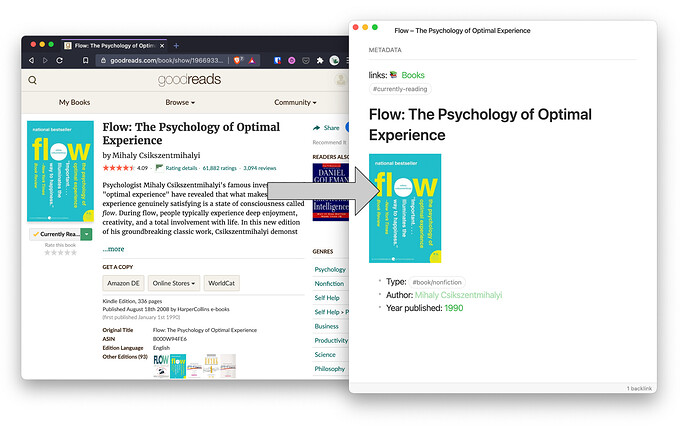 Running the script
There is detailed documentation on github on how to set up and run the script.
However, I want to advise to not run any script without understanding how it works. There might be data loss and unintended consequences, so please back up your notes and be sure of what you are doing!
How it works
Goodsidian checks your Goodreads RSS feed against the notes in your Obsidian vault and creates or updates book notes based on the status.
By default the formatting is set up in the way that works specifically for me but shouldn't be too hard to change.
For me it is super helpful to not have to create and update book notes manually, I hope it provides a similar value to you!
---
Let me know your uses and adaptations for the script or share any issue you run into!