Hi all,
I'm using Obsidian for study and life in general. I came across Nicole Van Der Hoeven's videos for obsidian and was pretty sold on it all.
I was really inspired by her latest video with Leah Ferguson who uses inline dataview for her D&D games. It helped me evolve a layout I'm pretty happy with for getting and revising German words for uni - sorta like a dictionary. Because Markdown has terrible tables options and we all know it.
Verbs
I have a list of data at the top of each page which is robust. Because German verbs are notoriously difficult for English speakers, I've grouped the breakdown into what I'm currently studying.
Present, Imperfect and Perfect Past.
The interesting part
I have three tables for Present, Imperfect and Perfect Past in the verbs template.
Inside of these, I have information being pulled from the top Dataview data list and put into tables. Like so:
Infinite
(has)
Imperfect
(had)
Perfect
(have had)
Verb Type
`=this.P1`
`=this.P2`
`=this.auxiliary``=this.P3`
`=this.vType`
Which looks like this:



and


It grabs the information from the data list that's been commented out and pops it into the tables - this is the part that Leah uses for her stat blocks and stuff. Super useful.
In read view it looks like this. With the data out of they way and the tags list hidden too, there is a cleaner look and it's easier to read.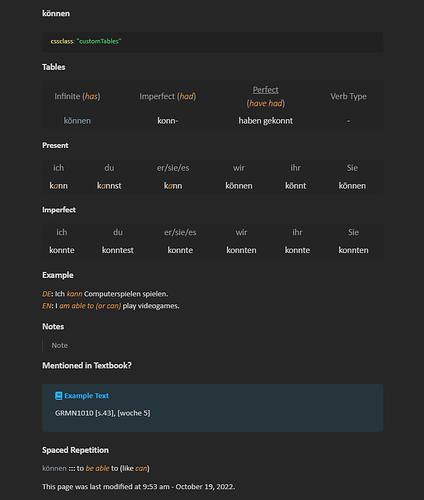 And it looks good with the popout (which was the ultimate aim)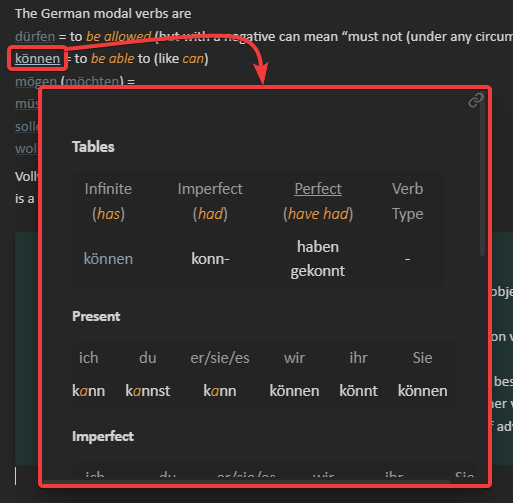 Nouns
Nouns only has a single table but follows the same principles.
Use the template
Feel free to use the templates I've made.
(I've added the CSS to make the tables look like that in the screenshot)
I use Dataview, Admonitions, Minimal Theme and Advanced Tables to get it all to work)
customTables.css (850 Bytes)
(Words) Verb Template 2.0.md (1.5 KB)
(Words) Noun Template 2.0.md (934 Bytes)